Synopsis:  The play is set in a public restroom. A man has just engaged in an agonizing search for apples to satisfy his pregnant wife's cravings. Apples are an imported luxury product in Algeria, expensive and hard to find. In this case, a local vendor had managed to obtain a basket of choice aromatic apples but refused to sell, contending that their value was higher as a display item because they brought prestige to the neighborhood. The inability to purchase an apple that the "Customer" could see and smell right in front of him is only one of a number of frustrating situations that he has recently encountered. The factory where he worked for years vanished overnight without warning. When he went to the authorities to find out what happened, he joined throngs of others who had long been seeking justice that never comes. At wits' end, the man stumbles into a public restroom, asking the proprietor, the "Attendant," for permission to let everything out. He wants to scream, jump around, and literally release his frustration and his rage at the system, which makes daily life all but impossible. Meanwhile, a third character – the "Actor" – happens into the same public restroom. Marginalized by the state-run theatrical institution he was working for, he seeks a space to rehearse and realizes that the restroom fits the bill: clean, calm, and with great acoustics. The actor "takes the stage" as he recites passages from Shakespeare's Julius Caesar. In the end, the quest for freedom and democracy, catalyzed by apples, brings the characters together. Apples was written by Algerian playwright Abdelkader Alloula between 1991 and 1993.
US performance of Apples/Et-Teffeh by Istijmam Culturelle, Indiana University (September 9, 2016)
By Algerian playwright Abdelkader Alloula, sponsored by Indiana University and Center Stage (a public diplomacy initiative of the US Department of State's Bureau of Educational and Cultural Affairs)
Page-to-Stage: Istijmam presents Et'teffah/The Apples – Millennium Stage (September 5, 2016)
Istijmam is a collaborative of theater makers from Oran, Algeria, presented by Center Stage as part of the 2016 Page-to-Stage New Play Festival. Their production Et'teffah/The Apples is a gritty, intimate work that bears witness to Algeria's shadowed past and complex destiny of the present day.
The Kennedy Center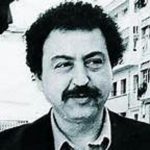 Abdelkader Alloula (1939–1994), the playwright, was born in the Algerian seaside town of Ghazaouet but spent most of his life in Oran. He acted in his first play in 1956, with the troupe Echabab. He joined the Theatrical Ensemble of Oran in 1962, the year that Algeria became independent, where he directed his first play, Plato's Allegory of the Cave. 
In 1963, he was hired as an actor with the Algerian National Theater (TNA). In 1964, he helped to create the National Institute of Dramatic Arts in Bordj el Kiffan, a primary center for actor training in Algeria, which he began directing in 1965. In 1967, he began formal study of theater at the Sorbonne in Paris and was subsequently invited to the International Festival of Theater in Nancy. On returning to Algeria, he was hired by Ould Abderrahmane Kaki at what was then a regional branch of the Algerian National Theater, based in Oran. In 1968, he directed an adaptation of Cervantes's Siege of Numantia. Around the same time, he turned to writing, creating and producing Laalague (The Leeches) in 1969 and El-Khobza (Bread) in 1970. When theater in Algeria was decentralized in 1972, Alloula became the director of the Regional Theater of Oran (TRO), where he remained for a decade. There, he created his most famous works, known as the trilogy: El-Agoual (el-Agwal, The Sayings, 1980), El-Ajouad (el-Ajwad, The Generous Ones, 1984), and El-Lithem (el-Litham, The Veil, 1989), produced in 1980, 1985, and 1989, respectively. In these works, he honed the style of halqa theater for which he became best known. He went on to found the May 1 Cooperative (Coopérative du 1er Mai) in 1990, a laboratory of theater makers focused on collaborative research, training, and critique. His performance in Homq Salim in 1972 (his loose adaptation of Gogol's Diary of a Mad Man) at the Algerian National Theater was pathbreaking as the first single-actor monologue in Algeria. His use of storytelling techniques, intonation, and voicing to portray the character's descent into madness would become hallmarks of his theater. Throughout Alloula's career, he studied both canonical and avant-garde theatrical works and writings. He was influenced by the work of Erwin Piscator, Vsevolod Meyerhold, and particularly Bertolt Brecht, in whose approach he found numerous resonances with the Algerian halqa. Alloula saw his work as a form of social critique, foregrounding stories and ways of speaking in which ordinary Algerians could recognize themselves. Abdelkader Alloula was shot outside his home in Oran on March 10, 1994, during the holy month of Ramadan, on his way to a conference on theater. Following his assassination, the city of Oran shut down in mourning.